Bishkek, Kyrgyzstan
- Ok, so we just got back to Bishkek after 5 days of trekking up in the Tian Shan mountains south of Karakol. It was truly beyond beautiful, but you all will have to wait for the photos. We are behind on our blogging and would like to show a bit of Kazakhstan first.
But... before I do that, I want to share a Mongolian joke.
On our last day in the Altai Range, I saw Khishgee reading a small, well-used and slightly torn book. I asked her what it was. She said it was a joke book. I then asked her to read a few to me as I wanted to post a Mongolian joke to the blog. She read about 20 before we both realized that they all pretty much sucked. Birah overheard us and said he had a good one. This is the joke he told... with a few enhancements:
A man riding across the steppe really has to pee. He climbs off his horse faces the wind and lets it go. The wind blows and he gets pee all over his pants. Thinking himself a smart man, he figures he has learned his lesson and vows never to do that again.
Later that day, he feels a gurgling in his stomach and realizes that he's got a bad case of diarrhea (K - probably ate too much yak yogurt). Remembering his experience earlier in the day, he squats...this time with his back to the wind, and....gets shit all over his pants!
Ok, so the punch line is a little weak and a bit awkward, but it had a true Mongolia feel to it.
Ok...on to Kazakstan...
Even if I hadn't rented "Borat" a week before our departure from California, I still would have been shocked upon entering Kazakhstan. Knowing that the "Kazakhstan" portrayed in the film was completely fictional, the only preconceived notions I had of the country came from our time in the Kazakh province of Bayan-Olgii in western Mongolia (see Crossing Mongolia - Part 4). Unlike western Mongolia where the centuries old nomadic culture has continued to thrive almost unchanged in relative isolation, the culture in Kazakhstan has suffered two generations of Soviet influence. The collapse of the USSR in 1991 did not mean a return to their roots. Instead they powered ahead fueled by huge reserves of natural resources to become central Asia's most successful economy. Borat couldn't afford to live in modern Kazakhstan.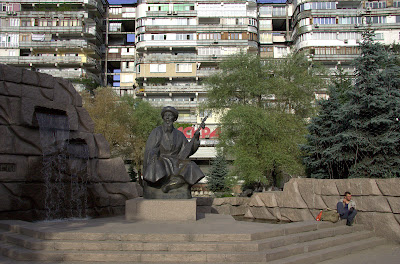 Statue of a traditional Kazakh in front of a not-so-traditional apartment block
Due to cost contraints, we decided not to explore the countryside of Kazakhstan and elected instead to stay in Almaty. Once we got use to the sticker shock and learned how to live a bit more cheaply, we realized that we really liked the city. Almaty is the commercial center of Kazakhstan and is the most cosmopolitan city in all of central Asia. As Suwei mentioned earlier, it is the first place where neither one of us looked out of place. The city is also quite beautiful, with tree-lined streets, snow-capped mountains, lush green parks, and fountains everywhere that actually worked. But...we were still paying 80 bucks a night so we need to stay focused, figure out our next move, and move quickly.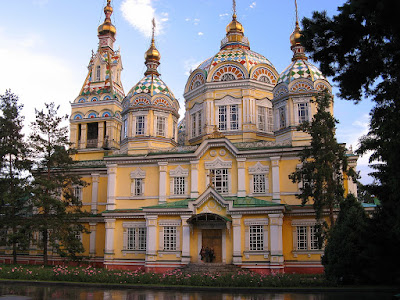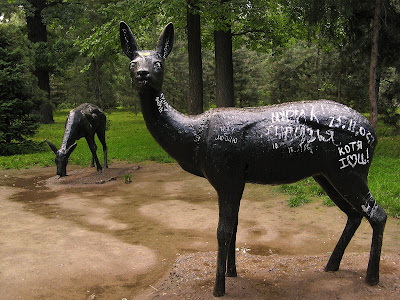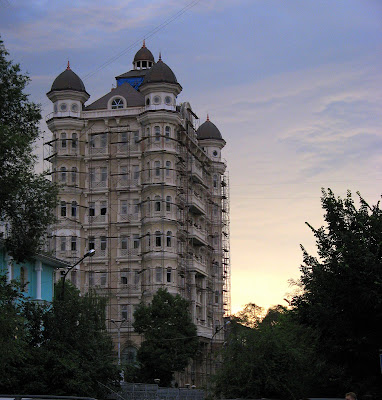 When we arrived in Almaty we didn't have a clue. We searched for a Central Asia Lonely Planet book in Ulaan Baatar, but couldn't find one. We were flying blind. Day 2 in the city was spent looking for cheaper lodging. We floundered a bit in the morning following a series of bad directions to a number of suggested locations of internet cafes. We ended up in the Hotel Kazakstan speed surfing for budget hotels at 25 Tenge a minute. Forty minutes and six dollars later we concluded that there were none. The nice woman manning the business center there spent about a half hour on the phone calling around to every hotel in the phone book. She was the one who found the quirky Russian hotel up on the hill where we ended up staying all week. I don't remember the name of the hotel as there was no sign outside. (S - The Armand Hotel, if anybody happens to heading in that direction soon and needs a cheap place to crash.) The front entrance was in the back of what looked like a big pink observatory hidden in the trees of a gated community. We were sold by lunch our first day there.
We were greeted by a heavyset Russian woman with limited but functional English skills. She seemed surprised that we had actually found the place (it took the taxi driver over an hour). Since there was nothing but trees near the hotel, we asked if there was someplace we could get lunch. She led us through a maze of ornate ballrooms, half-constructed hallways, and concrete stairwells to a shabby little room next to the kitchen with a few folding tables. She asked us what we would like for lunch:

"What do you have?"
"Cold soup."
"Ok, cold soup sounds good. Do you have anything else?"
"Let me check."

She shuffles off back into the kitchen. A few minutes later she returns.

"Liver and macaroni."
"Anything else?"
"No."
"Ok, we'll have the liver and macaroni."
"Do you want supper tonight?"
"Yes, we would."
"What would you like for supper?"
"Ummm, what do you have?"
"Let me check."

She disappears into the kitchen again for a few more minutes.

"Meat and rice."
"Anything else?"
"No."
"Ok, we'll have the meat and rice then."
"What time you eat?"
"How about 7:00pm?"
"Ok, 7:00pm, one minute please."

Again to the kitchen.

"No 7:00 pm, 6:00 pm. The cooks go home."
"Ok, 6:00 pm."

The cold soup, the macaroni, and the liver were very, very tasty. But for supper we ended up eating in town since we had to find an ATM as the hotel would take nothing but Tenge. The next few days our favorite receptionist was replaced by a series of other, very similar, heavyset Russian women with no English, but we were already sold and decided to stay.
Our state of confusion began to turn around on day 3 after we met Nick, an American working for a real estate agency in the Alatau Hotel. We found his name on an expatriate website listing possible sources for cheap apartments. Over coffee (S - good coffee...brewed, not instant and free...I have to mention this because a cup of drip coffee cost $4 in Almaty and I had not had any non-instant coffee for well over a month) he advised that if we liked our hotel we should stay as beating the price would be next to impossible. He also suggested we talk to CAT (Central Asian Tours) about our onward travel plans and he gave us a few possible sources for English language guide books.
We took his advice and went to the CAT office. We walked away from there with a list of possible routes and their corresponding prices. We walked to Ramstore (a mall and department store) where we looked for a guide book and ate lunch. We passed up the AFC (American Fried Chicken: "The taste that is in your mind.") for gyros in the food court. Then we walked to the Inter-Continental Hotel and to the Hyatt Regency where we finally found a LP Central Asia, Copyright 2004. That evening we filled ourselves with pizza and information about Kazakhstan.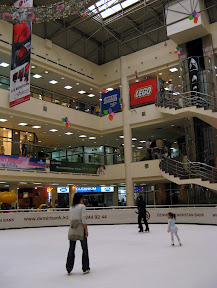 Sunday, nothing was open so we took the #6 bus up the hill towards the mountains. The bus was loaded with hikers, climbers and picnickers. And on the road there were mountain bikers, backpackers and Sunday drivers. It seems Almaty is a fairly active town and a good portion of the population head to the hills on their day off. The bus dropped us off at the Medeu Ice Rink (1700 m) and we hiked our way up to the Shymbulak Ski Resort (2300 m). I was sucking some serious wind on the way up (partly due to some stomach issues I'd been having, but mostly due to me being seriously out of shape). We stopped for a rest at the top of an avalanche control damn to watch a guy in a bear suit pretend to eat children and pose for photos. At the ski resort, for 600 Tenge we took a ride on the chair lift hoping to reach Talger Pass. However, we soon realized that it was 600 Tenge per chair lift and it took 3 lifts to reach the pass. Being cheap bastards, we elected to work off our salami and cheese lunch by sucking more wind. Clouds and rain moved in before we made it to the pass so we turned back towards home. It really was nice up there.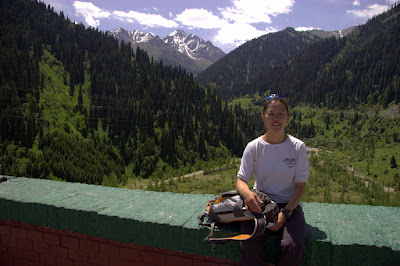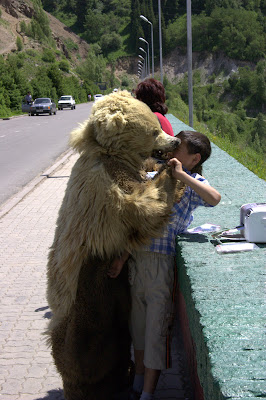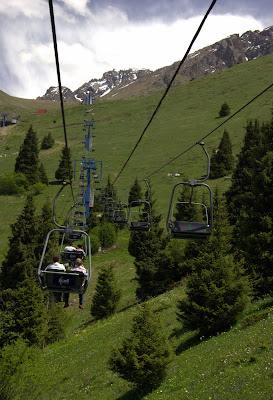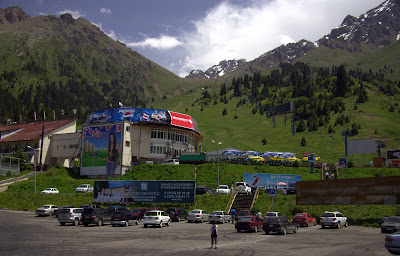 Monday and Tuesday we spent a lot of time walking around town getting things done. Here is what we did:
Waited in line at the Kyrgyzstan Embassy to apply for visas.
Got coffee and pasteries at Thomi's.
Walk around in circles looking for a post office that actually sold stamps.
Got a haircut. Now I really look like a Russian.
Walked back to the Kyrgyz Embassy to pick up our passports with visa.
Took lots of pictures of camel statues that were scattered all over town. (Do any of you San Franciscans remember the hearts?)
Washed our clothes in the bathtub and dried them on the towel warmer of our hotel room.
Took a ride to the top floors of the highest office complex in town where the US consulate is located. I remember thick bullet-proof doors, a Jasper Johns print of the American flag, and a fantastic view of the city. (We both needed pages added to our passports.)
In the consulate we chatted with John, an American working for an NGO in Almaty for the last 3 years. His organization was closing down due to rising living costs and was sending him home in one week. At the same time, his wife had accidently sent his and the dog's passports through the wash and he was at the consulate checking to see if they needed to be replaced. He told us where we could find the best shashlyk in town.
Walked and bussed all the way across town to eat shashlyk. Shashlyk is basically kebabs. This particular place, recommended by John, was just a rusty, smoking shack wedged between the sidewalk and a few cars parked on the street. They had tables set up and you could buy beer from a news stand across the street. They weren't ready to serve food yet, but a small crowd had already collected. We had a skewer of pork and a skewer of chicken, soaked in vinegar and sprinkled with paprika. John was right, we've had none better.
Ate samosas and icecream (S - had another Magnum...best icecream bars ever) while waiting for a few college kids running a cell phone store in a subway under Dolsky Ave to burn two DVDs to backup all our photos from Mongolia.
Took a soak in the Arasan Baths. These public baths cost 1000 T for a two-hour session. It was a bit confusing at first but Suwei and I found our way to the respective male and female sides. Entering the bathes I was approached by four fat men in white coats, looking like overweight orderlies from a funny farm. They wanted to give me a massage. Tempting as it was, I only had enough Tenge in my pocket to rent a pair of shower shoes. I undressed, lockered my stuff, and used my REI pack towel to cover my bits while I checked out the bathes. Figuring out the customs of a foreign land is always tough, but doing so while naked is especially difficult. The first room I entered was full of slabs of marble with buckets of soapy water next to them. In the back of the room a few men were laying on these slabs being slapped by fat men in white coats. I moved on. The next room had showers, of which I partook. Getting the feel for things I tried the Norwegian sauna, the cold pool of the Turkish bathes, and then the excessive heat of the Russian saunas. The Russian saunas were filled with fat old guys beating themselves and each other with myrtle branch (for sale out front) until they turned all pink and puffy. I moved from hot to cold and back again until I was fully refreshed and relaxed. I'm pretty sure Suwei had a slighlty different take that she might want to share.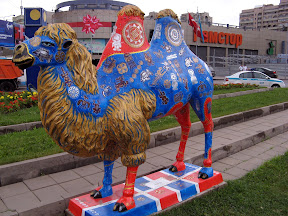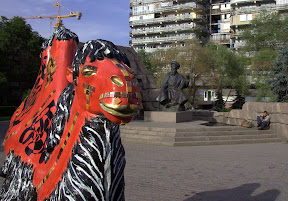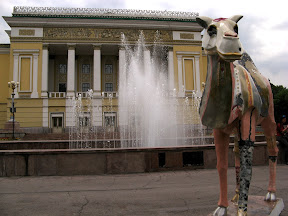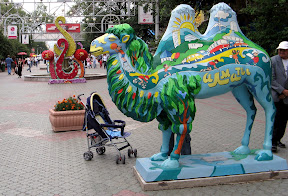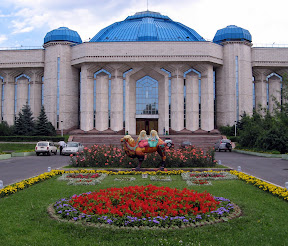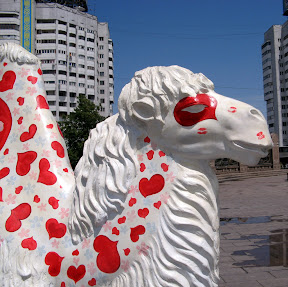 The next day we caught a minibus to Bishkek in Kyrgyzstan. More soon. Check out the photos and commentary here: